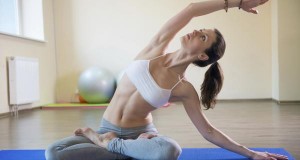 If you need to lose weight quickly, Pilates isn't the ideal exercise for you. However, if your goal is not just to lose weight, but also to tone plus look slimmer,including pilates to the technique part of your workout routine will help.
Body Shaping
The technique helps to tone your muscles, particularly around your midsection. That shapes your body, giving you an appearance that is leaner. Since most people strive for an improved appearance when they are trying to lose weight, this method can help you to accomplish that goal.
Building Strength
For you to lose weight, you will need the physical ability to do exercise. Most of the people who are extremely out of shape or overweight are often struggling when it comes to performing weight loss exercises. Pilates Association of Canada, a not-for-profit organisation, has the aim of promoting this technique, sponsoring educational, supporting high professional standards and disseminating information that relates to this method in Canada.
According to the organisation Pilates can help you build the required strength and tone your core plus increase flexibility. Additionally, the Association states that the method can help relieve back pain. This can make exercising easier plus more comfortable. Once you have started to build muscle using this technique, you will be capable of performing more exercises with less difficulty and increased comfort.
Movement
If you really need to lose weight, you have to get up and start moving. The technique gives a gentle introduction to the movement world. The association also lists body balancing among the benefits of using this physical fitness system. The not-for-profit organisation argues that by balancing your body, you will achieve the capability of moving gracefully. As a result, this can make exercising as well as losing weight to become much easier for you. Rather than concentrating on balance, you will be focusing on the cardio aerobic workout that keeps you moving.
Attitude
The inventor of this a physical fitness system was from Mönchengladbach, Germany. He developed the method in the early twentieth century, and it was named after him. He called his technique "Contrology". According to him, the exercise method is meant to benefit your body, mind as well as spirit. If you've a better attitude when getting into the whole process of losing weight, you will most likely lose more weight eventually. An invigorated spirit plus a positive attitude can increase your well-being as well.
Activity
While doing this physical fitness system alone will not lead to you dropping the size of a dress in a week's time, it contributes to the total amount of time that you often spend moving in one day. Hence, the more movement you make, the more calories you will burn. Whether you are a fitness expert or just coming back into the exercise world, this technique can help you to stay active, particularly if you aren't looking for a workout with a high impact.
Like further information on Pilates? Contact Your Health Hub in Hobart for a consultation and discussion today. Phone: 03 6122 0150