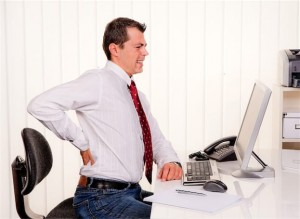 Holding down a full-time job while you are living with chronic back pain can be a major problem for many people. However, that does not mean you cannot have a fulfilling career. Here are a few tips on how you can work with chronic back pain or any chronic pain and thrive.
Know the Law
It is important to know that an employer cannot legally discriminate against you because of your chronic pain. The ADA Act of 1990 gives workers certain protection against any form of discrimination. The ADA Act applies to any employer who has 15 or more employees. To be protected by this law you must have a medical condition that limits major activities such as performing manual labor or walking. However, you do still need to have the education and experience required by the employer for you to work in the position.
Develop a Habit of Noting Down Everything
If you are living with chronic pain, remembering long agendas can be quite difficult due to brain fog and other reasons. To ensure you are productive at your place of work, develop a habit of noting down everything in a personal journal. Each morning, go over your list and check it throughout the day. However, you have to learn how to distinguish what is important in your job performance to avoid being confused by your own notes.
Get Enough Sleep
Ensure that you get at least eight hours of replenishing sleep each night. While it is easy to stay up late at night browsing through social media or watching late-night TV programs, sleep is important. It will give you the energy you need to get through the day despite your condition. Besides that, it will help to improve cognition, which could help you advance your career.
Give Yourself Time to Get Prepared for Work
As part of your chronic pain management routine, always give yourself at least an hour to get ready for work. When you rush through your morning to arrive at work, it will make it harder for you to perform to your optimal level at work. It is also a great opportunity for you to prepare yourself mentally for the day ahead. Sometimes, it can even entail taking a short half-hour nap after you have dressed up for work.
Do Not Hold Back Your Emotions
Bottling up your emotions and being stoic at work can make the pain worse. If you feel like crying, have a good cry. Additionally, if you feel like laughing, laugh your heart out. It will ensure you have a great day at work.
Summary
Going back to work and maintaining a normal routine can be an important part of dealing with chronic pain. If you feel that you are ready to go back to work, take the plunge. Being around colleagues and interacting with other people can help you to achieve more in life. Chronic pain does not have to limit what you can achieve in your career if you follow these simple tips.